The SAP extractor is a valuable tool for businesses that use SAP systems and need to extract and integrate data with Microsoft systems. It offers efficient data extraction, seamless integration, customization, and reliability, making it an asset for any organization.
Benefits of this solution
1

One stop solution - To extract data from SAP to MS

Most SAP customers have a mix of on-premise and cloud systems. We offer data extraction possibilities from all these systems if you want to use Power BI as a reporting tool.
2

Extraction possible from all OData compatible systems

Exact online, Odoo, Business Central,…
3

User friendly

Easy to use for information workers!

Our extractor is not an expert tool, has build in intelligence to support information workers to extract and deploy data.
4

Accelerator for Power BI on SAP data

Our extractor accelerates data availability for most commonly used SAP applications.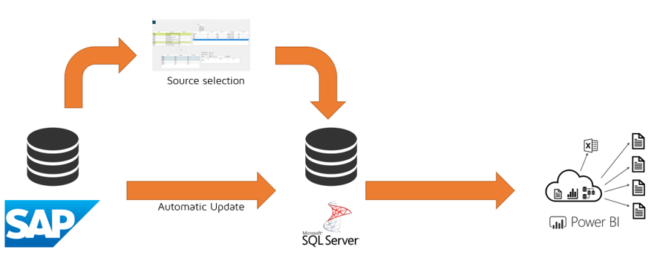 Features
Download SAP tables and (CDS) views
Access via a regular SAP user with RFC authorization
Store data directly in MS SQL Server
No installation of ABAP programs
On-premise or cloud installation